Malta Deaf Sports Association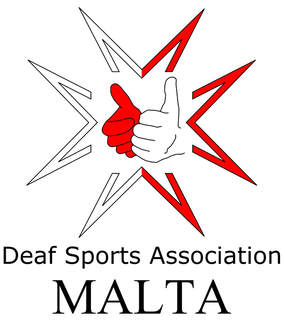 Our Deaf Sports Organization started in 2001 when Malta became member of CISS to participate in Deaflympics of Rome 2001. It is now functioning as sub-committee of our Deaf People Association, Malta. The aim is to unite Deaf people practicing in sports who face certain hidden disadvantages, such as not being able to hear their coach's instructions during a game, a referee's decision or the roar of the crowd. Because Deaf players can compete regularly against their hearing opponents, they have full rights to participate like others.
The Deaf People Association organized indoor games for members and others to play tournaments at the Deaf Club. These games are Billiards, Table-Tennis, Table-Soccer, Chess, Draughts, & Darts.
Later on in 2004, the Deaf Sports developed well and more Deaf individuals gathered together to plan sportive activities for social awareness and entertainment. So a teamwork of Deaf Football was formed with supportive resources from Kunsill Malti ghall-iSports. Our main aim is social inclusion through Sports locally. So Deaf Football was created in 2007 to unite Deaf
men socially once a week, to train and play matches (both friendly and tournaments). There they had the opportunity not only to get to know each other, but also to gain special awareness about different forms of communication during the fast-paced football matches. In the meantime the club applied for the use of Marsa track, Kirkop football ground and University tracks, and we received the membership free of charge. At the first glance, all the players were amazed with the difference. The Kirkop track was smooth, the lighting more than adequate and a much welcome atmosphere for Deaf players` communication.
Later in 2010 the Deaf Women's group was also formed. The Deaf Women's group met once a week to socialize and practice aerobics and other exercises to maintain a healthy lifestyle. They used the Sports Cottonera Complex thanks to the support of Kunsill Malti ghall-iSports.
At present Deaf Football and Deaf Woman are no longer active. It is hoped that activities will begin again in the near future.
The Malta Deaf Sports Association is a member of the International Committee of Sports for the Deaf (CISS). ​
For more information, please contact Mr George Vella