After a number of meetings, we are happy to announce that the new version of the 112MT app has finally been launched! The app offers assistance through informative icons, making the emergency services accessible for many, including the Deaf community. Special thanks to all those involved for making this possible!
Police Traffic Communication Cards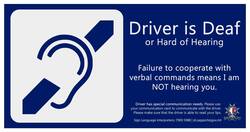 Communication Protocol (For people who are Deaf or Hard of Hearing).
Police will be having the Communication Cards below in the "Primi Noti" handbook cover and they provide very useful communication tools in order to permit police officers to properly communicate with people who are Deaf or Hard of Hearing.
The Communication Cards can be used by means of simple but clear "picture-pointing" gestures whereby the Police Officer or people who are Deaf / Hard of Hearing can point out at the specific pictograms in order to communicate the message that they wish to convey.
The blue sign can be printed by people who are Deaf or Hard of Hearing and must be attached to the rear driver-side vehicle window. This card will permit Police Officers to promptly note that they could be dealing with a person who is Deaf or Hard of Hearing.
Special thanks to the Commission for the Rights of Persons with Disability – CRPD and the Malta Police Force .